7 Ways Coffee Can Help Revive Your Skin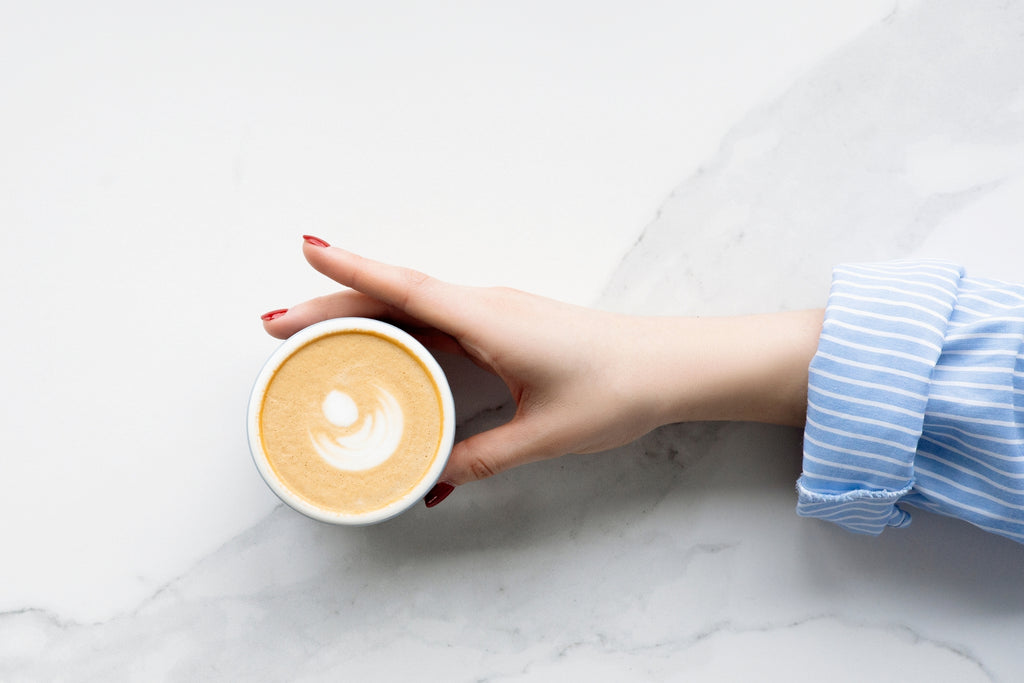 Coffee lovers, take heart: If you've been thinking of cutting back on your coffee intake, consider instead shifting your caffeine intake to your skincare routine. Serious coffee aficionados likely already know that their fave beverage is full of antioxidants, anti-cancer, and anti-inflammatory properties, but there's a lot to be said for coffee's skincare benefits, too. 
And we're not just saying this because we're admitted coffee addicts ourselves. Research has shown that compounds in coffee have the power to protect, enhance, and smooth skin. When it's applied to your skin, it can also improve your circulation and give you a glowing complexion. Thankfully, skincare experts are taking note, and the trend is catching on with products chock-full of coffee's free radical defying properties. 
So switch out that extra cup for some of our fave caffeine-packed skin care products, and read on for seven awesome beauty benefits of coffee that you can count on to wake up your skin.
Coffee Benefit #1: It's a Natural Exfoliant
Instead of tossing out your coffee grounds, add them to your skincare routine. Because coffee grounds don't dissolve in water, they won't just melt away with a slight spray from your shower head—meaning they're super effective at sloughing away dead skin cells, boosting circulation, and reducing the appearance of cellulite. 
If you prefer not to go raw, not to worry—you can find coffee in plenty of skincare ingredients. Coffee is the star ingredient in CÉLA Black Gold Supreme Coffee Scrub, which uses finely ground coffee beans to scrub your way to smooth, tight skin. You might also love THE COFFEE SCRUB The Coffee Scrub in French Vanilla, which proves that coffee is the answer to everything. Case in point: It feels divine when paired with a hot shower, and it gives your skin an undeniably healthy glow. How? When you use it, it reduces the appearance of excess fat cells and makes your skin look supple, taut, and shiny.
Finally, coffee can also be used to gently exfoliate sensitive areas prone to chapping, like lips. Use a mix of coffee grounds and coconut oil to keep your smackers soft and supple—and try not to be tempted to eat the scrub while you're at it.
Coffee Benefit #2: It Diminishes Dark Circles
If you've ever struggled with stubborn dark circles under your eyes, you can count on coffee. Instead of reaching for more concealer, consider a product with caffeine. The caffeine in coffee boosts circulation and works to firm and tighten skin, which is why it's so effective when it comes to reducing dark under-eye circles. 
Check out MINTPEAR Coffee Eye Serum, which banks on coffee's collagen-boosting powers to brighten up your eye area. The serum is a magical potion that'll keep the area under your eyes bright and awake. It's filled with antioxidants and vitamin E, which help increase blood flow and moisturize the delicate region around your eyes. The result? Perfectly rested and hydrated skin that looks like it got its beauty sleep.
Coffee Benefit #3: It De-Puffs, Too
Now you know caffeine can do a number on dark under-eye circles, but did you know it can also eliminate bags under your eyes? An amazing coffee beauty benefit is that caffeine can shrink blood vessels and remove water, which both result in de-puffed eyes. The region under your eyes needs extra love because it's a lymphatic channel that doesn't drain easily—and since coffee removes water, you can count on it to take out any unsightly bags. 
Try ORIGINS GinZing™ Refreshing Eye Cream to Brighten and Depuff, a vitalizing eye cream that visibly brightens the eye area by diminishing the appearance of dark circles and puffiness. This daily cream reduces pesky under-eye bags and puffy eyes, bringing your glow back and making you look fresh and ready to face the day.
Coffee Benefit #4: It Has Anti-Aging Effects
You know you can be gorgeous at any age, but that doesn't mean you have to sit back and accept all the visible signs of aging, like sun spots, redness, and fine lines. Amazingly, coffee is linked to a reduction in the effects of photo-aging. Check out CALLYSSEE Better Bean Clean Face Coffee Cleanser if you'd like to take a few years off or simply reverse some sun damage. This facial scrub stimulates circulation, promotes tightness, and blurs out fine lines.
Coffee Benefit #5: It Soothes Inflamed Skin
Say bye-bye to redness and inflammation! Thanks to the flavonoids in coffee, you can soothe irritated skin back to optimal health. Flavonoids are antioxidants that are awesome for skin health because they help prevent sunburn and photo-aging but also work to treat redness that might be the result of sitting out too long in the sun or developing an allergic reaction.
Try out PURLISSE BEAUTY Coconut Oil + Coffee Silky Body Butter, which you can slather on to reduce redness and nourish chapped or inflamed skin. If your skin is especially irritated, try making a soothing mask out of this body butter and leaving it on for several minutes. Then rinse it off to reveal softer, more supple skin.
Coffee Benefit #6: It Brightens & Tones
You know how one whiff of coffee instantly wakes you up and brightens your mood? It has a similar effect on your skin. When you apply it as a facial scrub or mask, it'll stimulate your skin cells and increase blood flow, which will help even out skin tone and boost your glow. 
Also, on top of physically exfoliating your skin, the coffee in a scrub like HONEY BELLE Coffee Facial Scrub chemically exfoliates and adds a layer of protection to your skin's delicate barrier. Revive, renew, and detoxify your skin by applying the scrub in circular motions.
Coffee Benefit #7: It's Naturally Nourishing
By now, you're probably familiar with antioxidants—compounds that protect skin from free radicals, which are the bad guys that contribute to wrinkles and loss of firmness. Antioxidants also nourish your skin cells from the inside out by making them plumper and more resilient. Coffee is an important source of antioxidants, which is why it's so effective at making skin appear tauter and healthier. 
Do right by your skin with CLARISEA Coconut Coffee Repairing Cream Scrub, which works to keep you moisturized and perfectly awake throughout the day.